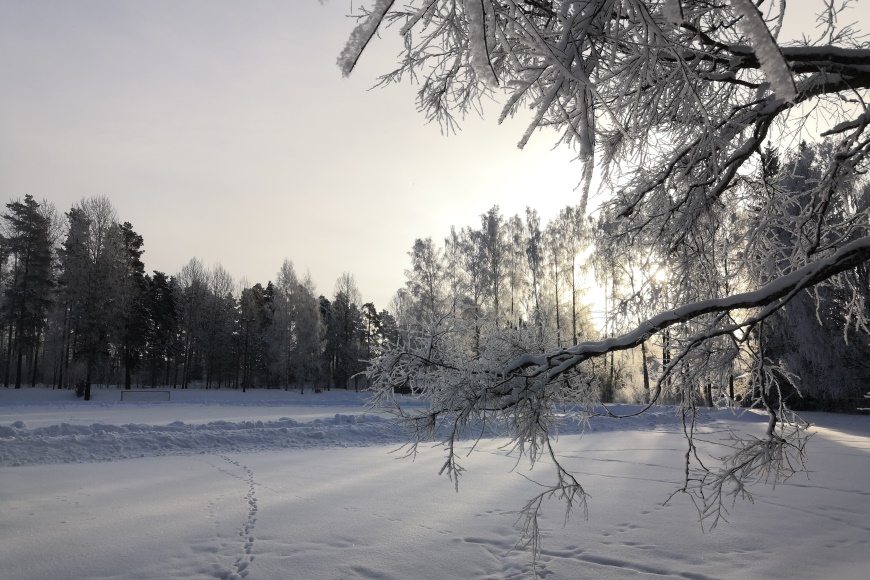 In winter time you can go skiing, skating, snowshoeing or just enjoying the nature. Holiday weeks of the Finnish primary schools in 2021 are weeks No. 8, 9 and 10. Photo: LikeFinland.com
We collected some tips for you to spend a winter holiday in our article in Finnish. Here is a summary also in English!
These tips consist mainly of LikeFinland Star Destinations, which have been our media customers during last 12 months, and they can be found among the first at www.likefinland.com.
Nice pictures of southern Tuusula cross-country skiing tracks in January. Tracks are maintained by Myllykylän Mylly ry. Photos: LikeFinland.com
Did you know that there are hundreds of kilometres cross-country skiing tracks in capital area, of course depending on weather conditions. You can check the current situation here: Ulkoliikunta.fi (incl. skiing, ice-skarintg, swimming in Helsinki, Espoo, Kauniainen, Vantaa).
One of the well-maintained downhill ski resorts near Helsinki is Talma Ski in Sipoo, north of Vantaa and east of Kerava. There are 5 ring lifts pulling you up and even 2 carpet lifts, which are easy for beginners. One of them is located in Werneri Park for kids and families. There you don't need any slalom skis or snowboard or any equipment, because there are sledges and snow tubes for sledding and playgrounds also.
Remember to wear a mask if you go inside. A restaurant, rental equipment and ski school (in many languages) are also serving.
We were enjoying and practicing in Talma Ski in January. Photos: LikeFinland.com
Suomenlinna is worth to visit in winter time also. Suomenlinna Sea Fortress is a UNESCO World Heritage Site, such a cultural treasure of Finland with its long history! The fortress is also a district of Helsinki with about 800 inhabitants.
Suomenlinna is located in the Helsinki archipelago near the city and can be easily reached all year round by HSL ferry from Kauppatori in just 15 minutes.
Here is more info of Suomenlinna. In winter time you can enjoy the cafés and restaurant as well as HAA Gallery, or take a look to the Blue route for you own exploration!
Suomenlinna ferry and Rantakasarmi barracks. Photos: Super Otus / The Governing Body of Suomenlinna
Flamingo Spa in Vantaa is a warm destination, where you can feel like to be on sunny beach! It's +32 Celsius degrees both in the air and in the water. There are both Water park for families as well as Sauna and treatment world for adults in Flamingo Spa, not forget delicious meals to enjoy.
All over Finland there many cosy accommodations we can recommend. Here is a list of our Star Destinations with links to a destination page on our site as well as Booking.com page (if exist).
SOUTHERN FINLAND
CENTRAL, EASTERN AND NORTHERN FINLAND
Nice accommodations around Finland. Park Alandia Hotel in Åland (left up), Kolin Keidas in Eastern Finland (right up), Apteekinmajoitus accommodation near Lahti (left down), and Farmhouse Sipilä in Central Finland (right down). Photos: destinations and LikeFinland.com (Park)
Text: Henri Elo
You can check more contents and pictures at our Finnish article here.
--
LikeFinland.com is a nationwide leisure time media and search service of Finnish destinations. You can like us on Facebook or follow on Twitter and Instagram. Our main website in Finnish is KivaaTekemista.fi.