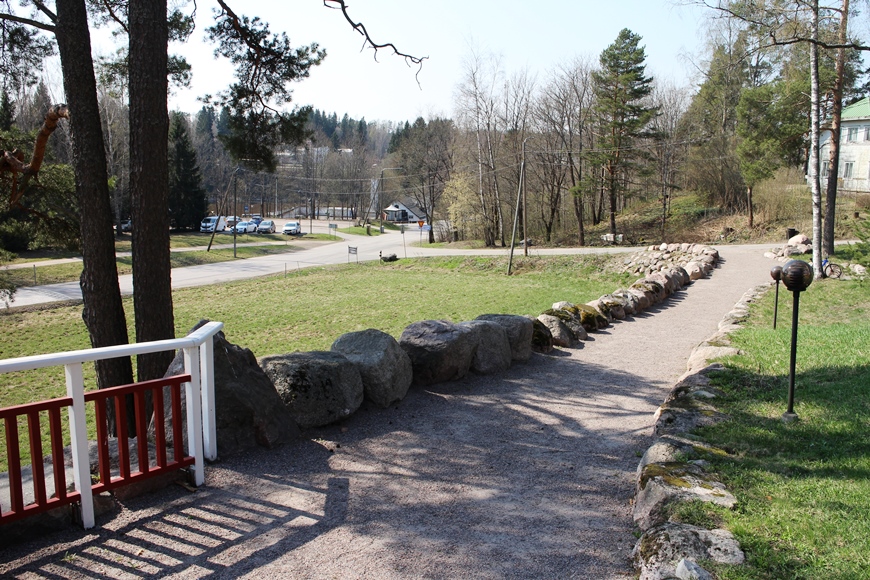 A view from the King's Manor to the river. Photo: LikeFinland.com
Would you believe that it is possible to relax in the nature so near Helsinki? But it is, at least in our Star Destination, Restaurant Kuninkaan Lohet, which is located by the rapids Vantaankoski in Vantaa, north of Helsinki.
They have two unique buildings, a historical factory building Vanha Viilatehdas (Old File Factory) and an idyllic Kuninkaan Kartano (King's Manor), a manor with lovely, renovated rooms and cabinets.
Nowadays this lovely Gustavian atmosphere is suitable for organizing parties both for families as well as corporate and other groups. All rooms have even up-to-date conference technology for business meetings.
Delicious lunch on the Manor's sunny terrace at the end of April 2019. Photo: LikeFinland.com
In the surroundings of the Old File Factory and Vantaankoski rapids (fast flow in the river), they have a nature trail, that is worth experiencing. The King's Manor, the Old File Factory and the flowing Vantaankoski form together a historical milieu in the nature but still near the highways of Helsinki area.
While enjoying nature's relaxing feeling, you can also enjoy lunch with pure tastes and components. It's now served in the King's Manor on the hill, but in June the lunch will be available by the rapids in the Old File Factory with it's large summer terrace. The lunch buffet is served around the year, either in the manor (autumn, winter, spring) or in the factory (summer). In spring time it's possible to have a lunch on the Manor's warm, sunny terrace, too!
The premises of the King's Manor were renewed in cooperation with the National Board of Antiquities in late summer 2018. The Manor is now more practical both for customers and employees. Photo: LikeFinland.com
The history of the area goes far. It is an old ironworks, a file factory of the Dahlfors' company by the rapids. The factory was still running in the 1960's. The file factory is from 1890s, and there are still old times things for restaurant guests to see. The manor's main building dates back to the early 20th century. It was originally built as a Swedish-speaking folk school, but Mika Turunen, Managing director of the Restaurant Kuninkaan Lohet, tells that there was also a tavern even in the early 18th century in this area.
The manor house expanded to be more practical
The Restaurant Kuninkaan Lohet is a venue for parties, meetings and banquets. The manor's premises were expanded in cooperation with the National Board of Antiquities last year. Changes and extensions have been made in lobbies, kitchen, social facilities and the location of the buffet.
All in all, the Restaurant Kuninkaan Lohet offers a variety of premises either for a few people or family parties, up to groups of 140 people - or even bigger groups, depending on the arrangements.
Rooms and cabinets for different needs. Photo: LikeFinland.com
Kuninkaan Lohet is located in Vantaa, that is a city with many popular tourist destinations. And many of them are internationally popular too, such as Science Center Heureka, Finnish Aviation Museum and Flamingo Entertainment Center. So, this Kuninkaan Lohet environment and services consist a good supplement for Vantaa experience!
Vantaa is a former rural municipality of Helsinki, and the manor and the ironworks are fixed part of the local history. It's nice to see that is being developed on a long-term basis. Mika talks about a comprehensive nature experience and, in cooperation with educational institutions, he is estimating what today's young people want from this kind of experience destination in 2025.
Activities
Besides parties and food experiences close to nature, Kuninkaan Lohet offers activities both for private and business customers. A new activity is a real "extreme survival game" in Vantaankoski's nature! In the game the participants are divided in teams, and they need to solve a problem related to fictional car crash and give first aid, find the way out of the woods, crossing the river... Very exciting!
The teams get help from a real nature guide, that is hired for this experience. Other activities, such as the paddling with solo canoes, you can find here.
The Restaurant Kuninkaan Lohet is an experience-filled, natural and historical restaurant and event destination for various family and private events, meetings and corporate events. Kuninkaan Lohet also has sauna facilities in both the King's Manor and in the Old File Factory.
Kuninkaan Lohet offer you both daily lunches (Monday-Friday year-round) and also popular themed dinners and weekend brunches. Please, see the schedule below or at Kuninkaan Lohet website here.


Text: Anne Kinos-Järvinen / original Finnish text: Henri Elo
--
UPCOMING EVENTS IN MAY AND JUNE 2019
Sat 25.5., 15.6., 6.7., 20.7. Viilatehdas' Summer Brunches on Saturdays (www)
Fri 17.5. Lasilliset Juicea (Glass full of Juice) – a musical about legendary Finnish artist Juice Leskinen (www)
Fri 24.5. Viilatehdas' Summer Party (www) – Comics MC Ali Jahangiri, Antti Haapala and Ursula Herlin, the band Jusba Humaljoki Duo!
Fri 14.6. Stand Up Grill (www) – Comics: MC Ali Jahangiri, Mikko Vaismaa and Fredi Lilius
More events at Restaurant Kuninkaan Lohet here
--
CONTACT INFORMATION
Restaurant Kuninkaan Lohet
Voudintie 1 (Kuninkaan Kartano) / Kuninkaantie 28 (Vanha Viilatehdas)
01740 VANTAA, FINLAND
Homepage and how to get there (www)
Facebook (www)
Instagram (www)
Phone +358 (0) 9 253 253 00
E-mail: myyntipalvelu(a)kuninkaanlohet.com
***
We have chosen Kuninkaan Lohet as the Destination of the Month in May 2019. Kuninkaan Lohet is our Star Destination and media customer.
LikeFinland.com is a nationwide leisure time media and search service of Finnish destinations. You can like us on Facebook or follow on Twitter and Instagram.
Our main website in Finnish is KivaaTekemista.fi.