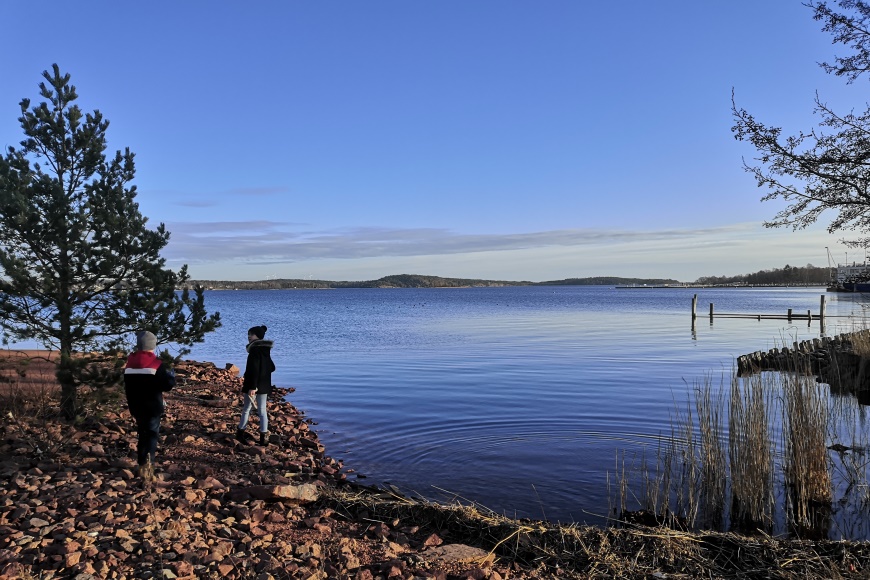 We enjoyed the eastern coast of Mariehamn, which is a 'cape-shaped town' from north to south. Photo: LikeFinland.com
We enjoyed and spent again - like a year ago, 2 children and one adult - a nice winter/spring holiday in Mariehamn, the centre of Åland. Åland is a beautiful island in the middle of the Baltic Sea, between Finland and Sweden.
When Åland is usually considered as a summer destination, this island is really worth to see in all seasons, also in winter and spring time!
Park Alandia Hotel's rooms are cosy and comfortable. Hotel manager Johanna Enberg showed us a renoved sauna and spa department. Photos: LikeFinland.com
Park Alandia Hotel is nowadays a family-company, owned by Zaida and Jesper Blomsterlund. Until 2015 it was owned by Viking Line cruise company.
Both Zaida and hotel manager Johanna Enberg told that they want a customer feel like being home when visiting hotel and that (s)he could get service with his/her own language.
We liked the hotel; the rooms are renovated, and both breakfast and dinner were good. We enjoyed for example fish and beef as a dinner. The kids liked and waited the breakfast very much, because it's not that common you can choose and collect yourself a delicious morning meal. :)
Park Alandia Hotel with its delicacies, and Viktor Crafts & Design and Café Viktor, down right. Photo: LikeFinland.com
It was nice to notice that Viktor Crafts & Design opened its doors in summer 2016 by Torggatan 15 in one of the Mariehamn's oldest wooden buildings. The store and its gallery are focused on 'Ålandish' design and art, and the products of the shop are made in an environmental-friendly way, for example of recycled materials.
A hundred metres to north, in Torggatan 9, there is a nice Syrrans / Pentik Mariehamn store, which offers Pentik and other decoration and textile brands. Anncatrin Kytömäki told that the shop has been operating for 16 years, and last 3 years in this location.
Happy women! :) Åland Maritime Museum's Lisa, Park Alandia Hotel's Zaida and Anna-Lena. Down left Viktor's Inger and Linda, and right Matilda and Anncatrin from Syrrans. Photos: LikeFinland.com
There are many shops and restaurants in the centre of Mariehamn, not forget Sittkoff Gallerian shopping mall, Torggatan 13. You can take a closer look at the shops and services of Mariehamn and Åland on the website of Visit Åland. (www)
We were positively surprised that there is a wide and spacious shopping mall, Maxinge Center, quite near the city, just 4 kilometres towards Jomala. We took a bus from the bus station to Maxinge, but came back by walking. And it was a great experience - as well as outdoor activity with kids - in the sunny weather!
Maxinge offers more shopping choices in Mariehamn area. The story begun from Sparhallen in 1981 (current location since 1985), and there is still the low-budget store Sparhallen in Maxinge as you see, our LikeFinland team! :) Photos: LikeFinland.com
We had a great time in Mariebad waterpark where you can admire the calmness of the sea also from the outdoor pool. Or take a fast waterslide from a 'tower' along the waterslide tube to straight the pool - and you'll see your speed time on the screen!
We spent 3 three nights and slept well in Park Alandia Hotel. Our room was a combined double-room, which is very suitable for families with kids.
Last day we explored maritime miracles and history in Åland Maritime Museum, which was awarded as the Musem of the Year 2016 in Finland. The exhibition is versatile for all-age people! In summer time you can visit also a museum ship Pommern and feel its revised (since 2019) visitor experience. Pommern is located in the harbour of the museum, Hamngatan 2.
--
Park Alandia Hotel (ParkAlandia.com in English here)
Park Alandia's FB
Norra Esplanadgatan 3
22100 Maarianhamina, ÅLAND - FINLAND
Phone +358 (0) 18 14130
info(a)parkalandia.com
Online booking here
We really enjoyed the views of Nabben and the eastern coast of Mariehamn, incl. Maritime Quarter, when walking back to the town. Photos: LikeFinland.com
Text and photos: Henri Elo / LikeFinland.com
--
We have chosen Park Alandia Hotel and Spring holiday in Mariehamn as the Destination of the Month in March 2020. Park Alandia Hotel is our Star Destination and media customer.
LikeFinland.com is a nationwide leisure time media and search service of Finnish destinations. You can like us on Facebook or follow on Twitter and Instagram. Our main website in Finnish is KivaaTekemista.fi.