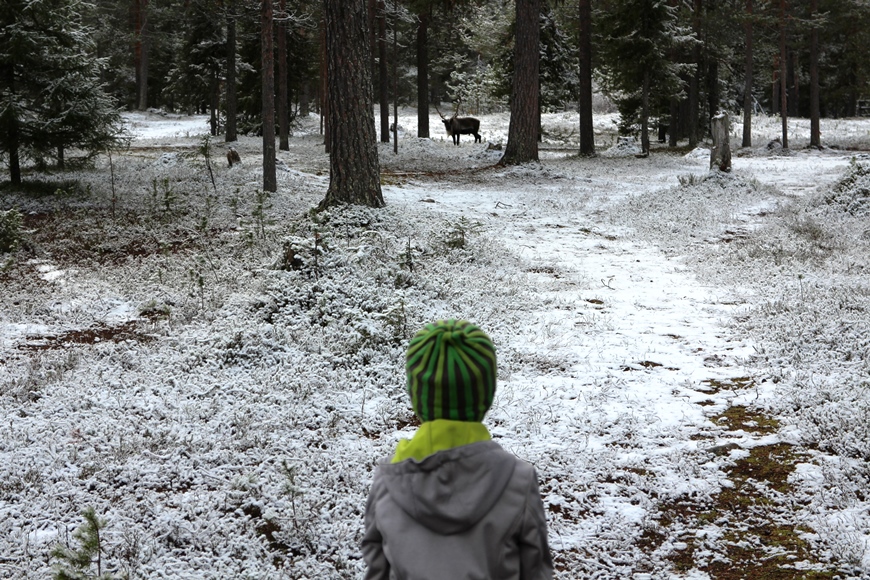 Ylläs is one of the largest ski resorts in Nordic countries. There are many things to see and do for children - also outside the snow season.


Konijänkä's Petting Zoo
We visited Konijänkä's Petting Zoo in Äkäslompolo. In 2005 founded Petting zoo is open every day of the year, even in the low season.
In Konijänkä there are nearly 300 animals and almost 100 different species. There is also a nice playground for the kids including a trampoline. For horse-riding enthusiasts there are pony rides, horseback rides the horse riding lessons and camps, where children stay on the farm and take part in the treatment of horses. In winter, there is the possibility of horse-, reindeer and dog sledding and children's snowmobile ride. During the high season there are even more activities for children.
More information (www)
Disc golf
There are two 18 hole disc golf courses in Ylläs. At Sport Resort Ylläs in Ylläsjärvi Frisbee golf track is on the side of the mountain slopes, behind the Lapland Hotel Saaga. The other one, Äkäslompolo Disc Golf Park, is located on the west side of Yllästunturi. The first 5 holes in both courses are suitable for families with small children.
More information (www)


Kellokas Visitor Centre
Kellokas Visitor Centre in Äkäslompolo is one of the three Visitor Centres in the Pallas-Yllästunturi National Park. Kellokas arranges a variety of exhibitions and events. The permanent exhibition "Meän elämää," tells about the villages that are located on the edge of Pallas-Ylläs national park, their people and their way of life. In Kellokas there are also nature-themed activities for children.
At Kellokas you will find Café, Kellokas Gallery and Ylläs tourist information. In connection with Kellokas there are also a library and a cinema Kino Kellokas. The logging museum situated in the Visitor Centre's grounds offers the opportunity to become acquainted with the life of a logger.
More information (www)
Fatbiking in the national park scenery
We had a chance to try Fatbiking on Ylläs mountain biking routes. There are approx. 150km of marked mountain biking routes in Ylläs – a part of the routes, 70 km, are also used in winter.
Fatbike was really nice and pleasant to drive. Landscapes were changing fast and thanks to the thick tires the driving felt soft. It is important to choose the routes according to your fitness level. Fatbiking is suitable also for children, but requires a little more balance and body control than a regular bike.
Fatbikes can be rented in Äkäslompolo Sport Shop. Rental price is reasonable, 35 euros per day. Weekly price is 100 euros.
More information (www)
Glow bowling in Ylläsjärvi
In Ylläsjärvi, approx. 15 km from the village of Äkäslompolo, you will find the Ski Owl Restaurant Bar & gr8 entertainment bowling alley. The restaurant offers home made waffles, chicken and sausage baskets and a soup of the day.
You have a chance to admire the northern light and the snowy scenery of Finnish Lapland projected on the wall whatever the weather is outside. For children, the lines got the sides.
More information (www)
You can also find a spa in Ylläsjärvi. The Ylläs Saaga Spa is in connection with Lapland Hotel Saaga.
Further information about Ylläs
Visit Ylläs (www)
Tunturintie 54,
95970 Äkäslompolo
tel. +358 40 550 2424
LikeFinland.com is a nationwide leisure time media and search service of Finnish destinations. You can like us in Facebook or follow in Twitter and Instagram.
Our main website in Finnish is www.KivaaTekemista.fi.