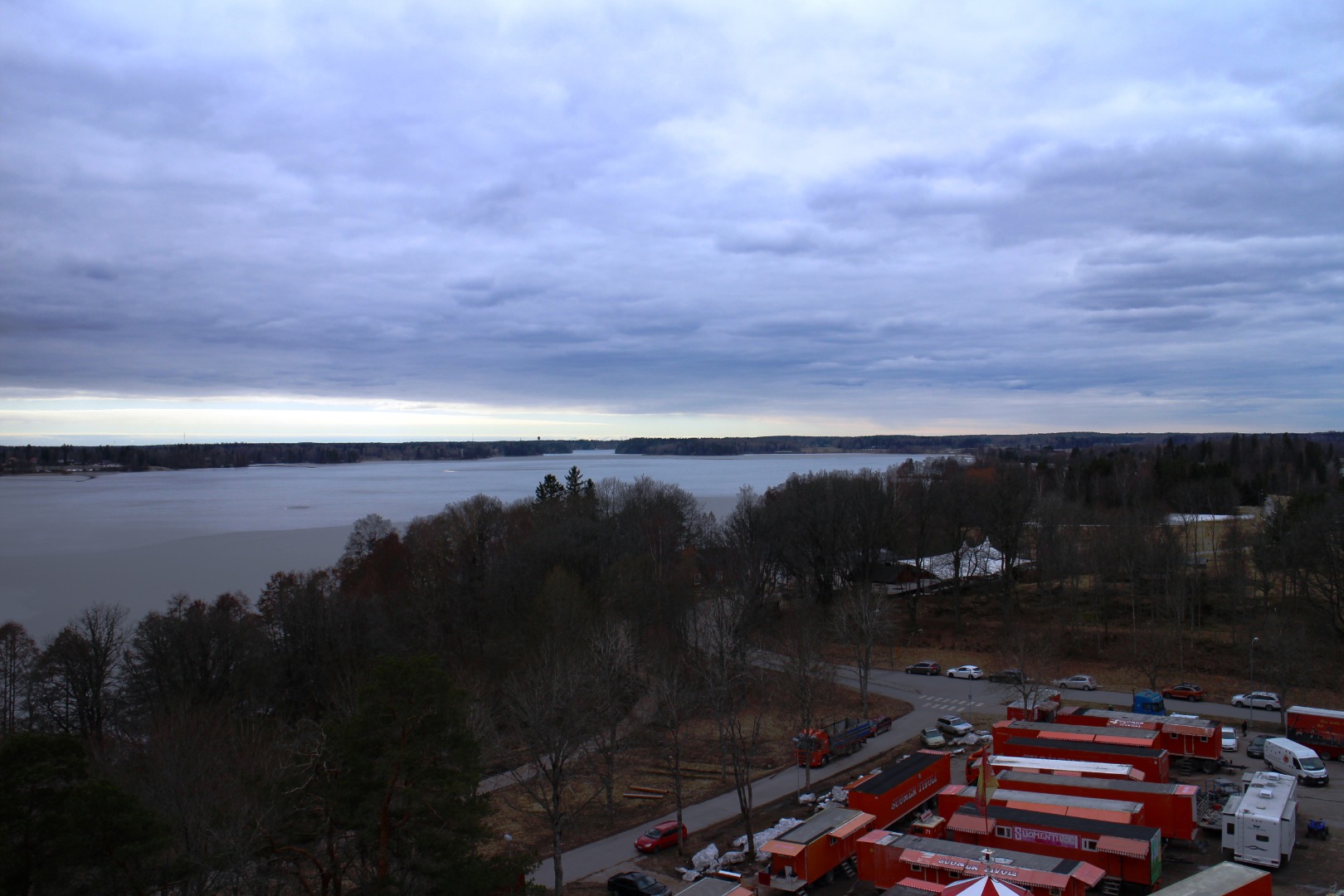 Suomen Tivoli Tour 2019 has started. The funfair depot in Tuusula, on the horizon, has been left behind.
There is one sign of summer - or at least start of spring - that one can recognize on the road - and it can not be mistaken.
Eetu, 7 years, told me many times at the beginning of April, which kind of funfair tour trucks he had seen on the road of 45 in Tuusula - and which machines or rides they were carrying on.
This is a new funfair field in Vanhankylänniemi, Järvenpää, by the lake of Tuusulanjärvi. Photo: LikeFinland.com
We - as a LikeFinland team - experienced a nice and funny funfair day in Järvenpää in April 13th, 2019. The weather was not so nice. It was around +5 C degrees, but were well prepared with beanies and wool trousers!
So, time passed quickly. We spent in Suomen Tivoli funfair in Vanhankylänniemi around three hours. The boy liked more quick rides like Gravitron, Mega Hip Hop, Roller Coaster, Sombrero, Spider and Twister.
Aada, 11-year girl, liked more rides with nice wies, like Star Flyer (launced in 2018) and Ferris Wheel.
Rides of Suomen Tivoli. Photo: LikeFinland.com

We enjoyed delicious meals of Suomen Tivoli. Especially my Premium Burger was very tasty and juicy! Funfair manager Lulu Sariola told us that the burger is developed by Suomen Tivoli's own kitchen.
The Grill wagon is completely new, and in this season there is also a new Candy wagon as well. :)
Tasty meals in Suomen Tivoli. :) Photo: LikeFinland.com
You can see more info of Suomen Tivoli Tour 2019 here. The funfair is staying in Jyväskylä until May 19th.
After Jyväskylä, Suomen Tivoli is directing to Oulu. The tour through Finland will reach Rovaniemi by Midsummer - with nightless nights in Finnish Lapland.
Suomen Tivoli is the biggest travelling funfair in Finland.
Text and photos: Henri Elo / LikeFinland.com
❄❄❄
We have chosen Suomen Tivoli Tour 2019 as the Destination of the Month in April 2019. Suomen Tivoli is our Star Destination and media customer.
LikeFinland.com is a nationwide leisure time media and search service of Finnish destinations. You can like us on Facebook or follow on Twitter and Instagram.
Our main website in Finnish is KivaaTekemista.fi.