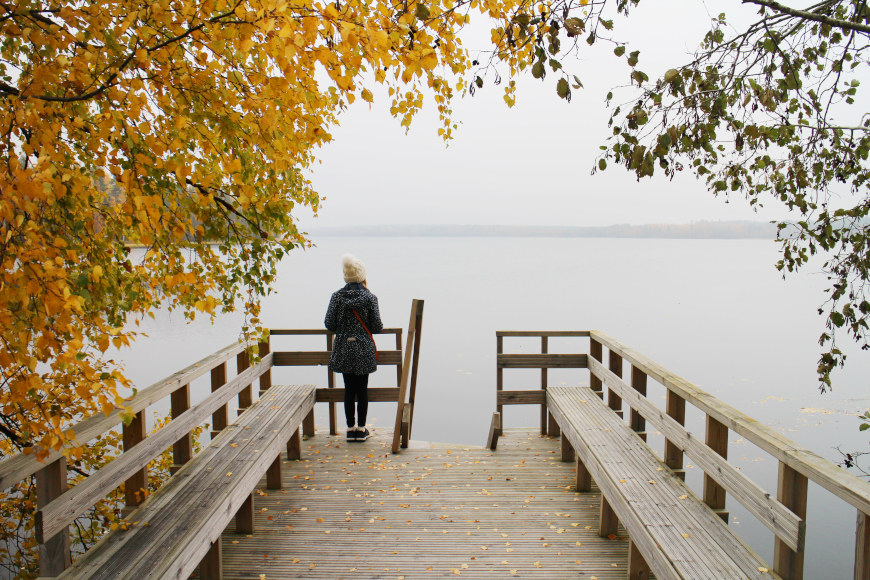 We visited Revontuli Northern Lights Resort approximately 45 km from Jyväskylä, Central Finland, to have a look at the new Glass Igloos in the autumn 2018! Jyväskylä is located 270 km from Helsinki.
Petra Tiainen took us into one of the Glass Igloos. According to her, especially the views, the Igloos and the saunas at Revontuli Northern Lights Resort attract international tourists to visit Finland. Photo: LikeFinland.com
The new Glass Igloos at Revontuli are by a lake called Iso-Virmas. We stayed in one of the traditional cottages while the children wanted to stay in one of the Glass Igloos.
Photos: LikeFinland.com
Photo: LikeFinland.com
The Glass Igloos offer something very unique also to a Finn! The views are amazing even without the Northern lights. At Revontuli there are more Igloos under construction! The new ones are going to be even bigger.
One of the current Glass Igloos has one bedroom while the other one has two bedrooms. Both include a shower and the possibility to cook.
Photos: LikeFinland.com
We ate dinner at an American style restaurant called Bowling Diner and went bowling, also!
Photos: LikeFinland.com
At Revontuli there are also many outdoor activities available such as minigolf, disc golf, footgolf, and golf! Near Revontuli there are also a ski centre Häkärinteet (Häkä slopes) and a national park of Etelä-Konnevesi opened in 2014. Read more about the activities here.
****
Revontuli Northern Lights Resort – Holiday Centre in Central Finland
Revontulentie 1
41500 Hankasalmi
FINLAND
phone +358 (0) 14 8448 200
Read more about the Glass Igloos – All Sky Aurora cabins here.
Photo: LikeFinland.com
****
Text: Johanna Hurtig, Henri Elo
We have chosen Revontuli Northern Lights Resort and the new Glass Igloos as the Destination of the Month of November 2018. Revontuli is one our Star Destinations and media customers.
LikeFinland.com is a nationwide leisure time media and search service of Finnish destinations. You can like us on Facebook or follow on Twitter and Instagram.
Our main website in Finnish is KivaaTekemista.fi.