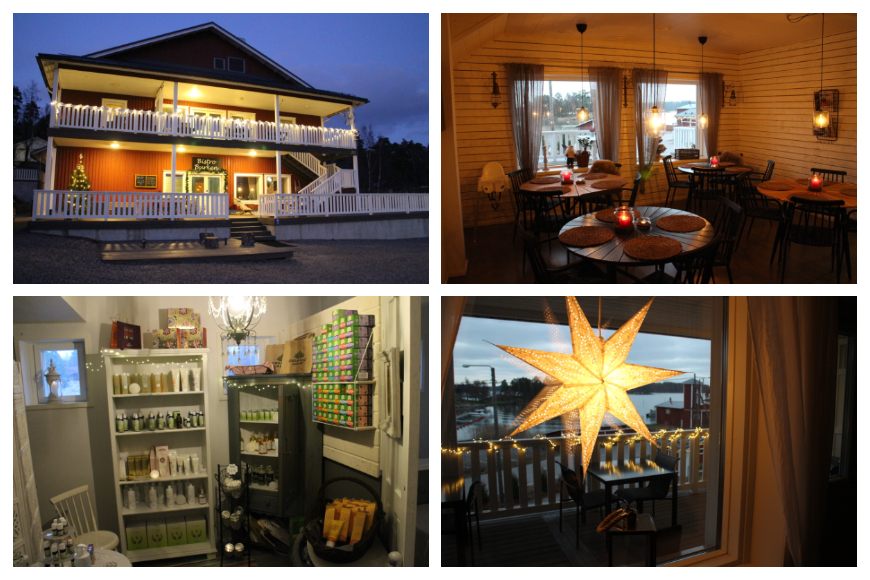 Bistro Burken is one of the new restaurants in Sipoo with its beautiful surroundings. Photos: LikeFinland.com
It was so nice to visit two new small family companies and destinations, but find out the situation of other restaurants too, in Sipoo, 30 minutes east of Helsinki.
Sipoo municipality is geographically quite long from south to north, even so that you can feel the sea and admire the sunset as well as hike in a national park!

Located on the seafront in Gumbostrand, a tiny idyllic village near Söderkulla, there is one of the new restaurants, Bistro Burken. The restaurant opened in the summer, but it is open also in winter weekends. See more detailed opening hours on the website or FB.
Bistro Burken serves fish meals, delicious pizzas and also salad meals as well as cheese cakes and raw cakes. Burken is run by Santtu Salmelin and Catharina Fallström. Also Catharina's parents and outside employees are working when needed.
In Gumbostrand you can also find an art gallery, Gumbostrand Konst & Form.
Did you know that one can manage in Sipoo at least three languages or even more. Finnish and Swedish are commonly spoken, and of course English is well-spoken too among younger people.
Elina and Milla on the left, Santtu and Catharina on the right side. Photos: LikeFinland.com
In southern Sipoo there is a cosy villa, like a tiny hotel - renovated a few years ago - run by new entrprenereus Elina Suomi and Milla Sohlstöm.
They are sisters and they started in Villa Sibbe in February-March 2020, but just after a few weeks the covid situation changed the plans.
Still, there has been a moderate number of guests, but parties, business meetings etc. not so many of course. It was nice to hear that Café Sibbe in the marina, below the villa, has been popular in sunny summer days.
There are many activities nearby like swimming pond, SUP board, kayaking, beach volley, frisbeegolf to name a few. In winter time you can go hiking in the forest, walking or skiing or skating on the ice if it's cold winter and thick ice. More info on the website and FB and Booking.com.
There are also cross-country ski tracks in Söderkulla and alpine skiing and snowboarding in Talma Ski, located 25 minutes north of Villa Sibbe. Talma restaurant has served also a delicious Thai-menu since 2018!
Villa Sibbe has a unigue history; the Nobel-winner A. I. Virtanen has owned it and spent time there with his family in the early 1900s. Photos: LikeFinland.com
I was surprised that there was also other news and rather new destinations on Sipoo's "restaurant map".
Restaurant Tila near Sipoonkorpi National Park has been operating since 2018, including also cheese production in small scale nowadays. The restaurant is open mainly on weekends in winter season but closed in Dec.
By the way, Sipoonkorpi with its magnificent forests is one of the newest national parks in Finland, founded in 2011.
In Box village, east of Söderkulla, you can find organic-based Guesthouse Box & Handelsman Café with its new web shop, and a newer one, 3-year old Box Café & Grill with weekday lunch and delicious burgers, which are popular among drivers and motorbikers.
In Sipoonranta, near Helsinki border, an Italian-style Portside Trattoria opened its doors in November 2020, and it has been popular too, say the locals.
The late lunch in Restaurant Veljekset was tasty! Photos: LikeFinland.com
Restaurant Veljekset ('Restaurant Brothers') is a Turkish-twisted modern lunch and dinner restaurant in Söderkulla, open from Monday to Sunday. Veljekset moved this fresh new location and building just over a year ago.
Did you know that there are two 'conurbation-centres' in Sipoo, Nikkilä in the middle and Söderkulla in south. Other areas consist mainly of beautiful countryside with lakes, fields, forests and hills – not forget the seaside and archipelago in the south.
A picturesque and relaxing seascape in Gumbostrand before Christmas '20. Photo: LikeFinland.com
Text: Henri Elo
You can check more contents and pictures at our Finnish story here.
--
Sipoo municipality (www -- FB) is a Star Destination and media customer of LikeFinland.com. (commercial cooperation)
Accommodations in Sipoo at Booking.com
LikeFinland.com is a nationwide leisure time media and search service of Finnish destinations. You can like us on Facebook or follow on Twitter and Instagram. Our main website in Finnish is KivaaTekemista.fi.