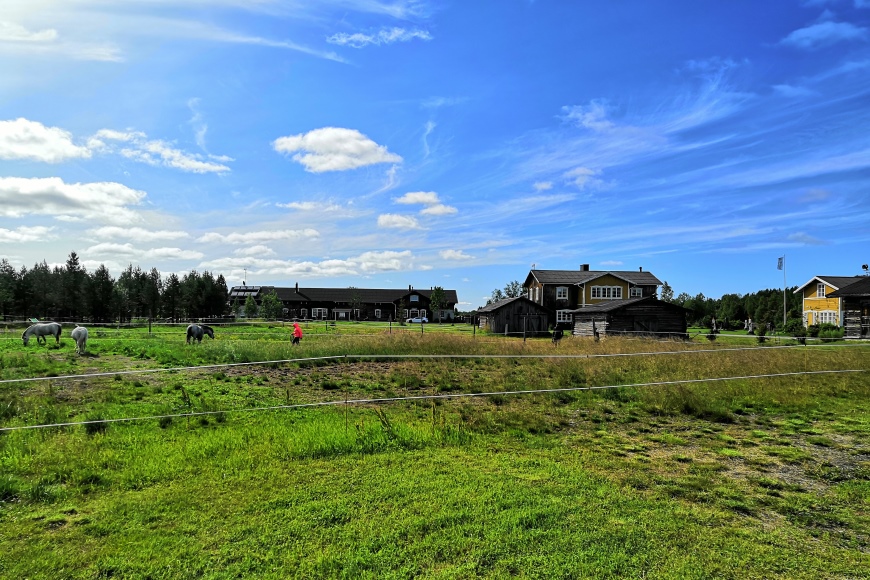 Elves Village in Kittilä is open also in summer time. Photo: LikeFinland.com
It was so nice to travel with kids – first to Finnish Lapland, and further on to Lapland in Norway, which is better known as Finnmark county. We were one adult and two kids on the road!
At first we took a train from Helsinki to Rovaniemi with so called CarTrain package of VR, the Finnish railway company. It was important to book the CarTrain package at least two months beforehand, because car-carrior wagons as well as sleeping berths could be easily sold out in the summer high-season.
We were lucky!
Our first overnight stop in Lapland was Kierinki Village in Sodankylä wilderness. The picture is from the road Rovaniemi - Kierinki. Photo: LikeFinland.com
When we arrived in Rovaniemi in the morning of late July - yes we did have a good sleep in train and we were not tired of driving – so first we visited Santa Claus Village, 8 km north of Rovaniemi centre, towards Ivalo. (www)
It was a nice surprise that the Village, with souvenirs and restaurant, was open early in the morning. We enjoyed our own breakfast outside at a nice table between the main road and Santa's home, in the fresh Lappish air. You can breathe fresh air and enjoy the calmness even if the road is quite close to you!
And we did some shopping in the Santa Claus Gift house too, f.ex. a "T-shirt with map picture" because we forgot our road map on the home table! :)
Well, the sun was shining in Lapland around the clock, and our trip had started!
Kierinki is a very nice village with its own "village shop" in the middle of wilderness. Photo: LikeFinland.com

KIERINKI VILLAGE AND SAARISELKÄ
After the breakfast we headed towards Kierinki, which is an idyllic Lappish village in the middle of Lappish countryside. Kierinki Village is located 120 km north of Rovaniemi and 70 km south-west of Sodankylä centre. Kierinki is a village of Sodankylä municipality. (www)
And not just an ordinary village without services, because there exist a grocery store as well as gas station, bar and a restaurant with daily lunch! The centre of the village is that Kierinki "village shop" – with services and friendliness available, both for tourists and local people.
Hietala in Kierinki Village is an attractive old, renewed former farm but nowadays it is for happenings, celebrations and tourists, with a new old-style hotel since 2016. Photo: LikeFinland.com
But that is not all! Up to a hill, just some 200 metres from the shop. there is a new old-style hotel of 12 rooms and a lounge, opened in December 2016. Next to the Hotel Kieringin Majatalo (www) there is an old Hietala main house and other buildings, which are also renovated.
We enjoyed our lunch in a restaurant by the shop, and the breakfast of next morning in Hietala house. Both were delicious and self-made, served by Teija and Ari.
Then we fed also highland cattle in the evening. The cows keep the village beautiful, because they eat the grass and shrubbery.
Teija Raaterova and her companion Ari Mikkola are taking of Kierinki Village services. Ari is presenting a new Marttiini stand in the shop. The founder of Marttiini knife factory was born in Kierinki. Photo: LikeFinland.com
After Kierinki, we traveled further north towards Saariselkä area (Saariselkä Booking - www). The kids tried first time ever fatbikes. Everything in Kiilopää fell area went fine, until Eetu, 8 years, stepped into a tiny pit, which he didn't see in the forest when leading his bike. So he hurt a bit his heel (foot). The doctor said afterwards, based on X-ray, that it'll be fine itself – and so it did. Well, the MTB and hiking routes were in good shape and also marked in Saariselkä.
Finally we managed Niilanpää round, ca. 10 km. Niilanpää is a fell next to Kiilopää fell. However, it was an exciting experience but you cannot take too big challenges in the wilderness, and you have to be prepared! The day was sunny and of course we had something to drink and eat with us, and sun gel also.
The views from Kiilopää slopes were great, and by fatbike – there are many rentals in Saariselkä area – you go faster in the wilderness than by hiking.
Eetu on the slope of Niilanpää fell – and the wideness of the Finnish Lapland. Our task was not so easy. Photo: LikeFinland.com
Mountain biking on the routes of Urho Kekkonen National Park, in Saariselkä area, has become possible since 2017. There has been developed a lot also downhill biking by Saariselkä Ski & Sport Resort (www) on Kaunispää fell, near Saariselkä centre. There has been a chair lift taking bikers – and view-watchers – up to the hill also in summer time this year. This is called Bike Park Saariselkä with the lift, equipment shop, rental services and a café. It is open until September 15th.
The winter season of skiing, fatbiking, Aurora Tobogganing (!) and other activities in Saariselkä will open in the late November.
Our team. Saariselkä is nothing without a visit in traditional Kiilopää fell centre or without taste of Kuukkeli fritters in Saariselkä centre! :) Photo: LikeFinland.com
After one night in Kierinki Village, we spent next two nights in a camping area by the Lake Inarijärvi, Uruniemi. The views to the lake were great and Eetu managed to fish one perch, which we fried as food for the next day in Norway.
Lake Inarijärvi is one of the biggest lakes in Finland and unique with its steep shapes of shores. Photo in Uruniemi Camping by LikeFinland.com

TOWARDS THE NORD CAPE
Yes, our trip continued, and we crossed the border of Finland and Norway in Karigasniemi. We headed up to Repvåg. It is a very arctic place, village, approximately on hour before Nord Cape in Finnmark county.
Repvåg Camping was a bit like Uruniemi Camping, but Repvåg was smaller. There were some 5-10 simple, nice cottages in the area, where you cannot see trees anywhere. It really was tundra! But we enjoyed this arctic atmosphere.
There was also heating in the cottages (if needed), and common cooking facilities as well as toilets in separate buildings. Basic things were working, but not any luxurous. Still it was suitable for us.
For the second night we rented a sauna for an extra fee. Sauna was new and nice but it took a full price for children also. All in all, Repvåg with its wonderful shores and landscape, as well as tiny fishing village under the camp, was a great experience. However there is about an hour way by car to the nearest grocery store in Honningsvåg. Some snacks etc. were for sale in Repvåg Camping reception.
You really have your own space in Finnmark, Norway! Repvåg views before Nord Cape. Photo: LikeFinland.com
It was weird due to it had been so hot in Finland, and at the same time as we arrived in Norway, also the weather dropped from +25 Celsius degrees to some +8 degrees or lower! You needed to dig warmer clothes out of your bag.
The day when we visited Nord Cape (Nordkapp in Norwegian), was also quite cool and windy. There were much bikers too on the road. And motorcyclists, caravans and campers, besides our sedan. It was a little bit exciting to "dive" by car into a tunnel, first downwards over 3 km and then upwards another 3+ km. We were under the sea gulf!
Nord Cape is a cape on the northern coast of the island of Magerøya in Northern Norway, Nordkapp municipality. (www)
The Nord Cape - the northernmost point in Europe achievable by car. Photo: LikeFinland.com
The Nord Cape Hall was impressive with exhibitions, video installations and shops on many floors. The only minus was that the restaurant was not as good or diverse for families as in our Finnish nature centre Haltia, in Espoo. :) There was also parking / entry fee to the area, depending the number of people arrived.
The Nord Cape Hall offers much to see. Photo: LikeFinland.com
RETURN TRIP
It was time to turn around – start a return trip back to Finland but via another route.
We had enjoyed our time in Norway. The landscape was so beautiful and different with mountains and sea, capes, gulfs and meandering roads on the coast, you could saw from afar. The open spaces and wideness made me feel relaxing. The kids liked to take photos too.
Even if there were not so much plants or trees, the nature touched in a different way, by views and winds and distances.
We came back via Alta and Kautokeino in Norway, and further on to Hetta in Finland. There was much forest between Alta and Kautokeino, and some river too on the right side and rocks on the left, after Alta.
In Kautokeino you can find the Museum of Sámi culture (www) and Juhls' Silvergallery (www). The forests continued after Kautokeino towards Hetta.
Finally we come to Hetta, the centre of wide Enontekiö municipality in north-west Finnish Lapland.
I had heard a nice accommodation, named Hetan Majatalo already years ago when hiking form Hetta to Pallas fells. Other hikers told how lovely it was when they were sleeping the first night there before the hike!
When we came back to Finland, it was also fun when the kids were able to use their mobile phones in the Finnish network more easily! :)
We made an evening walk in Enontekiö centre where we've been earlier too. There is a good playground of the school and a beautiful church with a narrow unique steeple (churh tower) you see from afar.
We spent a night in the older side of Hotel Hetan Majatalo (www), because it was a bit cheaper than new side. We enjoyed sauna in the evening and a very delicious breakfast in the morning in an idyllic room of the old house – with Lappish things and old photos.
The family company Hetan Majatalo was founded in 1924. So it has been serving travellers and hikers nearly 100 years!
Nearby there is also the Fell Lapland Visitor Centre (www) as well as there was Siida (www) in Inari in the beginning of our trip. So you really get familiarized with Sámi culture in many places, Inari, Kautokeino and Hetta, if you just want.
Hotel Hetan Majatalo, reception lounge, Tiina engraving on Eetu's new pen, and our idyllic room in the old part. Photo: LikeFinland.com
ELVES VILLAGE AND LEVI
One of our exciting days was ahead. We experienced Elves Village (www) in Kittilä, near Levi, some 2 hours south from Hetta towards Rovaniemi.
The Elves Village is one kind of Lappish nature world both for kids and adults. There is also a Lodge Hotel Taivaanvalkeat (www) in the Elves Village. Many destinations in Lapland are located in holiday centres and open in winter time, but Elves Village is in the middle of Lappish countryside, by the free-flowing River Ounasjoki, and it is open both in summer and winter.
Just two months between the seasons, in May and in October, the Elves are resting. :)
We participated in a Summer trip with the Elf in a Yellow Dress (www). It was exciting because the Elf was also herself interested in plants and mythology of Lapland, and she told of those actively to us. During the 2 hour trip we explored houses of different kind of Elves, Lappish plants and herbs, we fed hens and sheep, made some handwork in the Elves' School and baked gingerbread in the Gingerbread House.
The gingerbread baking in summer was the kids' favourite!
There will be coming also new experiences to Elves Village, such as Aurora Pyramids, where you can spend night with panorama window up to the sky and admire auroras!
The kids liked Elves Village and we got gingerbreads also with us to enjoy at home. After the trip with the Elf, we enjoyed delicious meat soap for a lunch in the Elves Village main house, where you can find also beautiful souvenirs, gifts and Santa's office. :)
Elves Village including Elves Hideaway, the most secret place in Lapland. Photo: LikeFinland.com
Last day but not the least, before the car train back. In Levi Holiday Centre (www) we relaxed spa and waterpark in Levi Hotel Spa (www). It was fun and happy – swimming, water slides, stepping in hot water and cold water, Jacuzzis, and pools outside in the fresh Lappish air, below the Levi fell.
It is so great that you can feel the holiday from Åland to Lapland also in Finland, even if you are living here. Yes, in the winter time we were enjoying the same kind of spa, Mariebad in Mariehamn, Åland. Do you remember our story in March?
In Finnish Lapland we have very nice and beautiful, slightly sloping fells and wide views up to the horizon, with many nature activities. Photo from Levi slopes by LikeFinland.com
- Advertisement –
LIKE FINLAND STAR DESTINATIONS IN LAPLAND
Saariselkä Ski & Sport Resort – The Northernmost Ski Resort in Europe. One Centre – two Fells – offer multiple choices for skiers and boarders of all levels from beginners to advanced. Bike Park Saariselkä in summer time. (www – LikeFinland.com)
Saariselkä.com - Saariselkä Booking – Local company where you can make accommodation and activity bookings for the entire northern Lapland. From Saariselkä Booking you can book accommodation, activities, transfers, and catering services for individuals, companies and organizations. (www – LikeFinland.com)
Elves Village – Attractive destination based on stories, fantasy, culture and mythology of Lapland for the whole family in Levi area, Kittilä. Also hotel and restaurant. (www – LikeFinland.com)
Kierinki Village – Idyllic Lappish village in the wilderness of Sodankylä with grocery store, restaurant and hotel & accommodation. (www – LikeFinladn.com)
Guesthouse Lomamaja Pekonen – Accommodation in cosy and clean apartments and cottages in Muonio. (www – LikeFinland.com)
Pörröporo – Reindeer meat store and café in Pello, Western Lapland. Authentic food from forest, fells and lakes. (www – LikeFinland.com)
Check all our Star Destinations at LikeFinland.com

--
Text and photos: Henri Elo
--
LikeFinland.com is a nationwide leisure time media and search service of Finnish destinations. You can like us on Facebook or follow on Twitter and Instagram. If you want to be a Star Destination, please contact on henri(a)kivaatekemista.fi, 0400 468 174.
Our main website in Finnish is KivaaTekemista.fi.