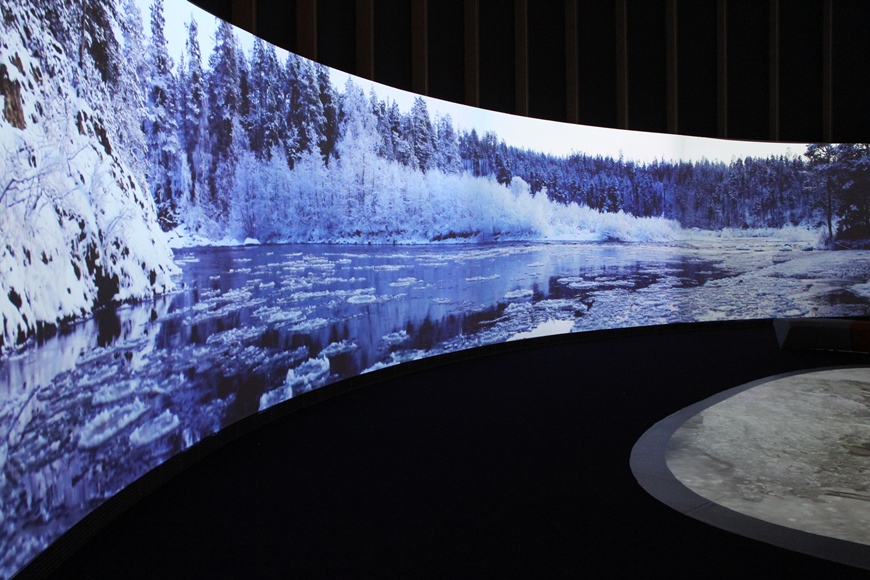 We visited one of our Star Destinations called Haltia in March. This architechically outstanding exhibition and event center surrounded by beautiful Finnish nature is located in Southern Finland in a city called Espoo.
Photo: LikeFinland.com
Even though you are not that far away from the city center you can enjoy the freshness and calmness the Finnish nature has to offer along with great exhibitions and food. It really feels like you're in Lapland! There are hiking paths, beautiful views of Nuuksio and Lake Nuuksio Pitkäjärvi, and Nuuksio National park to enjoy.
Haltia's customer advisor Mari Valtonen showed us Jussi TwoSeven's work through which we entered Luonto 2.17 -exhibition. Photo: LikeFinland
It is not just about the spectacular nature outside. Haltia offers a wide range of indoor multimedia exhibitions all year round. Nature related exhibitions range from to the more permanent such as the Main Exhibition and Green Belt exhibition to alternating exhibitions. There are also theme days which include for example lectures.
At the Main Exhibition we were able to listen the sounds of air, water, soil, and also wind. This art piece was designed by a Finnish artist Kirsi Ihalainen.
Photo: LikeFinland.com
There are also art the kids can enjoy. For example there is no age limit for crawling into a bear's nest. Don't worry, the bear is not real! Just a teddy. But it really does resemble the real one.
We also enjoyed the food in Haltia Restaurant. The buffet included seasonal foods and foods straight from the Finnish nature such as wild herbs. There is always a possibility to eat vegetarian.
Photo: LikeFinland.com
Haltia's marketing manager, Katja Määttä, praises Haltia by saying that Haltia's main goal is to make people more interested in nature by offering alternating exhibitions and art.
Triic and Liahh came all the way from Viet Nam to study information technology at a Finnish university called Aalto. They often enjoy taking hikes, cycling, and fishing in Nuuksio. Photo: LikeFinland.com
OPENING HOURS
Winter opening hours, October 1–April 30
10 AM–5 PM, Tue–Sat (Closed on Mondays)
Summer opening hours, May 1–September 30
10 AM–6 PM, Daily
TICKETS TO EXHIBITIONS IN HALTIA 2018
Free entrance to the lobby, nature shop and to the restaurant.
Adults 13 € (incl. all exhibitions and audio guide)
Discount ticket 8 € (pensioners, students, military servicemen, non-military servicemen, unemployed. Ticket includes audio guide)
Children (7–17-years-old) 6 € + 2 € audio guide
Children under 7 years of age No entrance fee
Family ticket 25 € + 5 € audio guides (incl. 1–2 adults + 1–4 children)
Annual ticket 25 € (personal)
Group ticket (min. 10 persons) 9 € / person (on reservation)
Guided tours (max. 25 persons/group) 95 € / h
Free entrance with:
ICOM card
PRESS card
Opas-GUIDE card
Museum card
Kaiku card
HelsinkiCard
Teachers together with daycare and school groups
Personal assistance
Text: Johanna Hurtig, Henri Elo
Haltia is one of our Star Destinations.
LikeFinland.com is a nationwide leisure time media and search service of Finnish destinations. You can like us in Facebook or follow in Twitter and Instagram.
Our main website in Finnish is www.KivaaTekemista.fi.