Time: 0.0021 Seconds\n
Adventure in the Dark
Seikkailupuisto Huippu, Leppävaara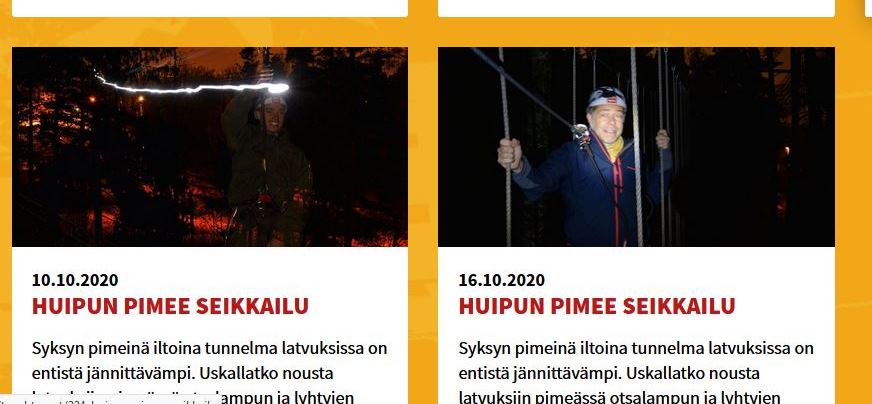 Description:
Join the Adventure in the Dark!
Experience all the thrills of the zip lines and high ropes courses at Treetop adventure Huippu with the added challenge of darkness!
When
On Friday October 9, Saturday October 10 and Friday October 16 after sunset you will have the chance to navigate through our highropes courses equipped with a headlamp.
The Adventure in the Dark starts at 6 pm and goes on till 9 pm. Please be on time since the ticket sales closes at 7 pm.
MInimum age and prices
The minimum age for the adventurers is 13 years.
The tickets cost 25 €. You may bring your own headlamp or borrow one at our ticket office. Price for lamp rent is 4 €.
The number of participants is limited so it is worthwhile to make a reservation. Make your reservation online here: https://www.seikkailupuistohuippu.fi/cms/en/book
TERMS OF RESERVATION AND WEATHER NOTICE
The reservations will be held until 6 pm. After that we reserve the right to sell the reserved tickets to other customers in the ticket line.
By heavy winds or thunder storm, or in the event of not reaching the minimum number of reservations, the event will be cancelled or rescheduled. In that case we will do our best to inform those who have made a reservation at least one hour prior to the event start. We will also post a notice of cancellation on the Facebook page of the event: https://www.facebook.com/events/747500282732125/