Time: 0.0023 Seconds\n
Treasure hunt at Treetop Adventure Huippu
Seikkailupuisto Huippu, Leppävaara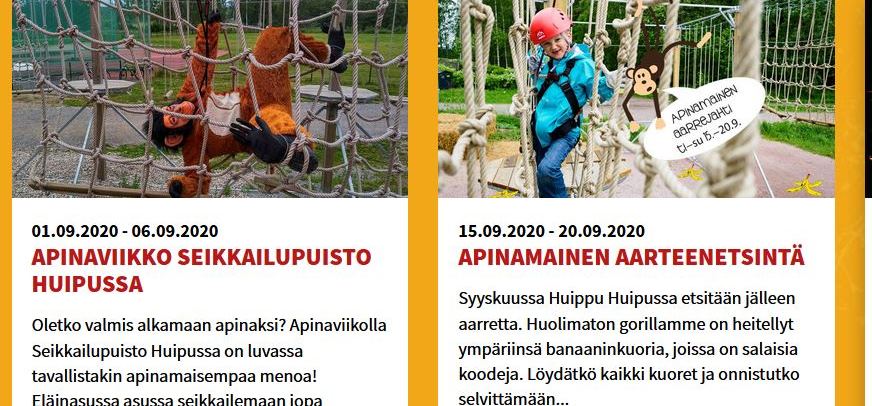 Description:
September 15th – September 20th kids can enjoy an adventurous treasure hunt at Treeetop Adventure Huippu.
Our careless gorilla has thrown banana peels everywhere on our premises! Can you spot them and crack the codes for opening the treasure chest?
Who can enjoy the treasure hunt?
The treasure hunt is designed for kids around 5−12-years old. The treasure hunters need to be at least 100 cm tall. Otherwise the steps and ropes on the highropes courses can be beyond their reach.
OPENING HOURS
Huippu forest doors are open Tue−Fri 3 pm - 8 pm, Sat 11 am - 7 pm and Sun 11 am - 6 pm. Tickets for the high ropes courses are on sale until two hours before closing time.
TICKETS AND PRIZES
The treasure hunt is available with no extra cost for customers who have purchased a day ticket for the Huippu highropes courses. Make a reservation in advance and ensure your place in the treetops! https://www.seikkailupuistohuippu.fi/cms/en/book
Please note
The children must be supervised by an adult. A supervisor needs to accompany those under 3 feet 7 inches (110 cm) tall onto the high ropes course, but larger adventurers may be supervised from ground level.