Time: 0.0023 Seconds\n
Monkey week at Treetop Adventure Huippu
Seikkailupuisto Huippu, Leppävaara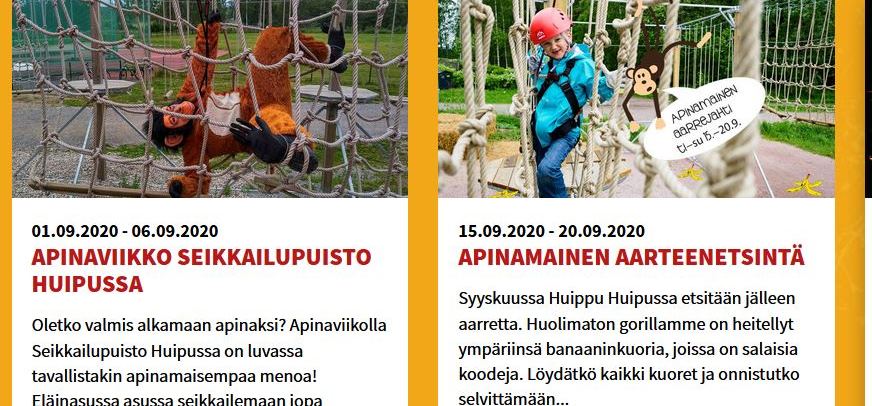 Description:
Treetop Adventure Huippu has gone bananas! Come and join our team in some monkey business during the monkey week September 1st – September 6th 2020.
Animal costume may give you free admission
During the monkey week gorillas, monkeys, giraffes, elephants and other jungle creatures are given 10 - 100 percent discount on the admission ticket. So dressing accordingly will be rewarded! The amount of discount depends on the originality of the costume and the effort put on it.
Please note that the assessment of the costume is subjective though and the Huippu team member in the ticket office will be the ultimate judge for it. His or her judgement is final and there is no chance to appeal against it.
OPENING HOURS
Our forest doors are open Tue−Fri 3 pm - 8 pm, Sat 11 am - 7 pm and Sun 11 am - 6 pm.
Tickets for the high ropes courses are on sale until two hours before closing time. Adventure golfers can start their round half an hour before closing time.
Make a reservation in advance and ensure your place in the treetops!